INSTALLATION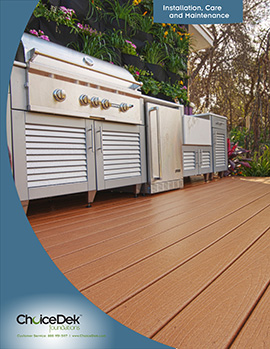 Get into the groove
of easier deck installation.
If you are used to working with wood, you already know how to work with ChoiceDek®. Our new profile accepts hidden and/or traditional fasteners or screws, and you don't have to worry about installing the screws too deep.
All you need is a hammer, screw gun, circular saw (carbide-tipped blade with fewer than 20 teeth is recommended), level, tape measure, rasp and blue chalk line.
It's a breeze to be outside enjoying the breeze.

Download PDF of Install Guide

View Install Guide Online
If installing our ChoiceDek Post Sleeves, view the ChoiceDek Post Sleeve Installation Guide.
Watch our installation
overview view
Check out this helpful video for a brief run-through of how to install a ChoiceDek composite deck.