ChoiceDek Foundations™ Composite Decking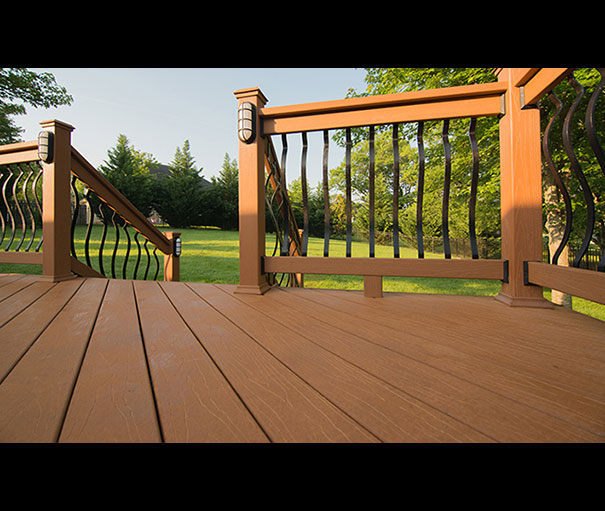 Shown in Harvest Brown








Available In:
Click to view color samples

Beach House Gray

Harvest Brown

Coastal Redwood
Grooved Composite Decking

1" x 5.5"
Lengths: 12', 16', 20'
Non-Grooved Composite Decking

1" x 5.5"
Lengths: 8', 12', 16', 20'
Trimboard
67" x 11.25"
Lengths: 8'
Available In:
Tap a swatch to view color samples




Grooved Decking

Non-Grooved Decking
Trimboard
1" x 5" Deck Board
LENGTH: 12 feet, 16 feet & 20 feet
ACTUAL DIMENSIONS: 1.0" x 5.0"
So Many Reasons to Choose ChoiceDek…
REASON #2 - AFFORDABLE BEAUTY
Available exclusively at Lowe's, ChoiceDek® Foundations is smartly priced, and our long-term benefits really add up.
REASON #5 - LOOKING GOOD
ChoiceDek composite decking comes in a variety of colors and components, giving you the flexibility to create a truly distinctive, custom deck.
REASON #9 - LAST DECK STANDING
ChoiceDek is made to last. Take comfort knowing your deck is backed by an easy to understand limited lifetime warranty that protects against rot, termites or inset damage.
REASON #15 - A CUT ABOVE
ChoiceDek works like wood, but better. Rip it. Route it. Bend it. There's no painting, staining or sealing required.
REASON #18 - PROVEN PERFORMANCE
ChoiceDek's advanced technology resists stains, mold and mildew all the way to the core. Expertly designed to be safe and easy to work with, every piece is created with an unmatched level of durability.
REASON #20 - GREEN IS GOOD
ChoiceDek is made from 95% recycled content. Old grocery bags are transformed into quality, durable decking
REASON #23 - INSTALL IT ANYWHERE
Our composite decks are the only ones tough enough to be installed anywhere, even underwater.
REASON #25 – ADVANCED DURABILITY
Check out our unique engineered profile that creates less weight while adding stiffness. It also allows air circulation between the deck boards and framing to reduce damaging condensation build up.
See how ChoiceDek is made.
This short video provides a fascinating peek behind the scenes of the ingenuity and engineering behind our products.