ChoiceDek Reviews
What People Are Saying About Composite Decking
ChoiceDek is dedicated to providing affordable, durable and beautiful composite decking which is why we proudly back our products with an easy-to-understand 25-year warranty. But we also know that our reputation remains strong because of our many satisfied customers and their positive experiences with ChoiceDek they love to share. Browse the ChoiceDek reviews below to find out what they have to say about our industry-leading composite decking.
Other reviews
Daniel McLafferty - August 26, 2018
My deck is one year old and the beach house gray color. It has developed round mildew spots. What can I use to clean and seal it?
Charles Savage - July 2, 2018
Just installed this choicedek in coastal red and absolutely love the new look. It was easy to install and now I'm waiting on an order to come in for the upper deck which will be getting done next.
Jeff Crow - June 29, 2018
Bottom of deck railing system is warped and no longer holds the deck spindles in place. Both sides of the bottom railing piece are warped.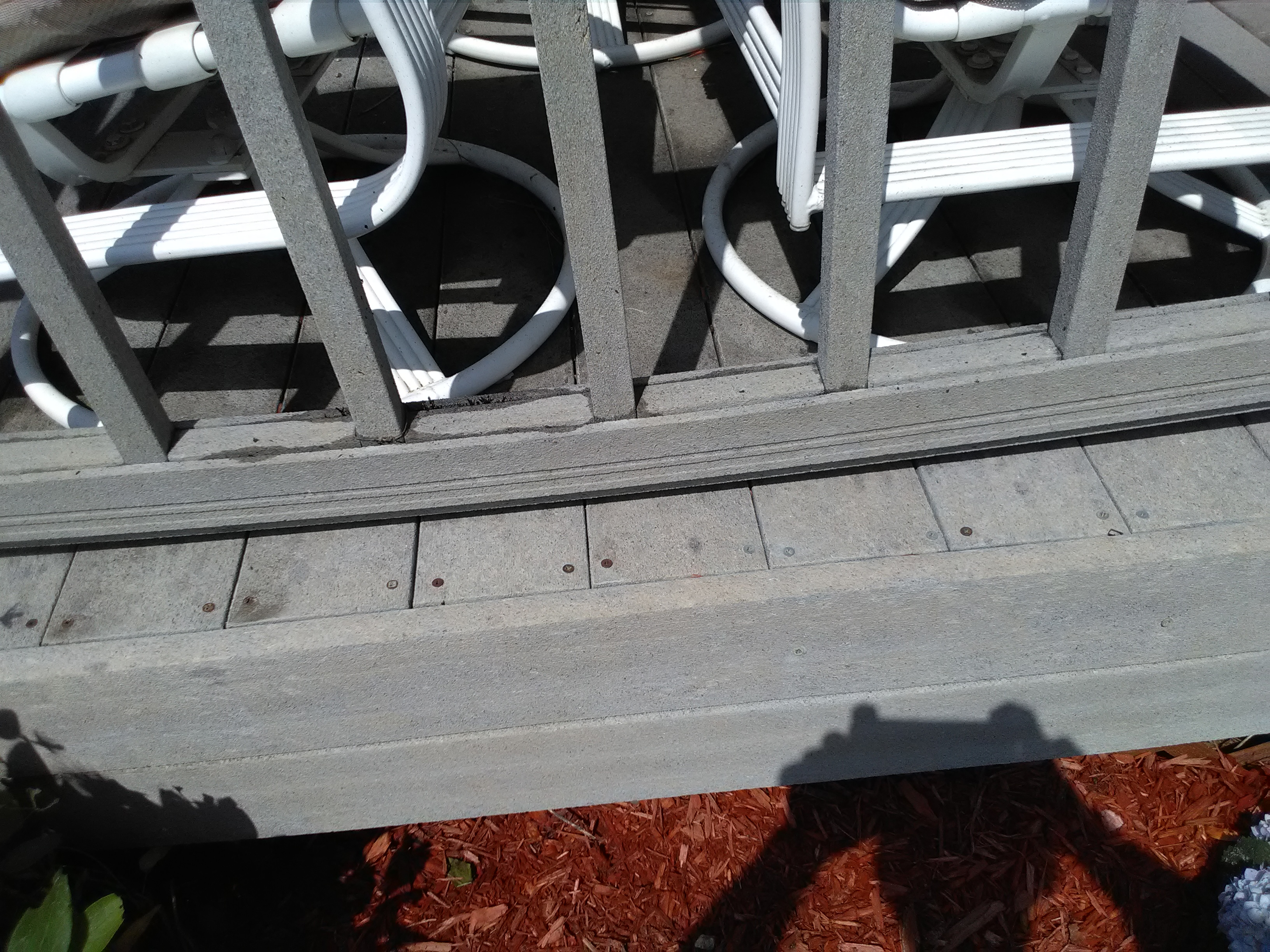 Virgil Jackson - February 2, 2018
My name is Virgil Jackson, I had my deck installed back in May of 2017. The salesman from Lowes told me that Choice Dek was better than Trex. He also told me it would not stain or mildew. Lowes charge me 8200 to install this deck. I honestly feel like I have been ripped off!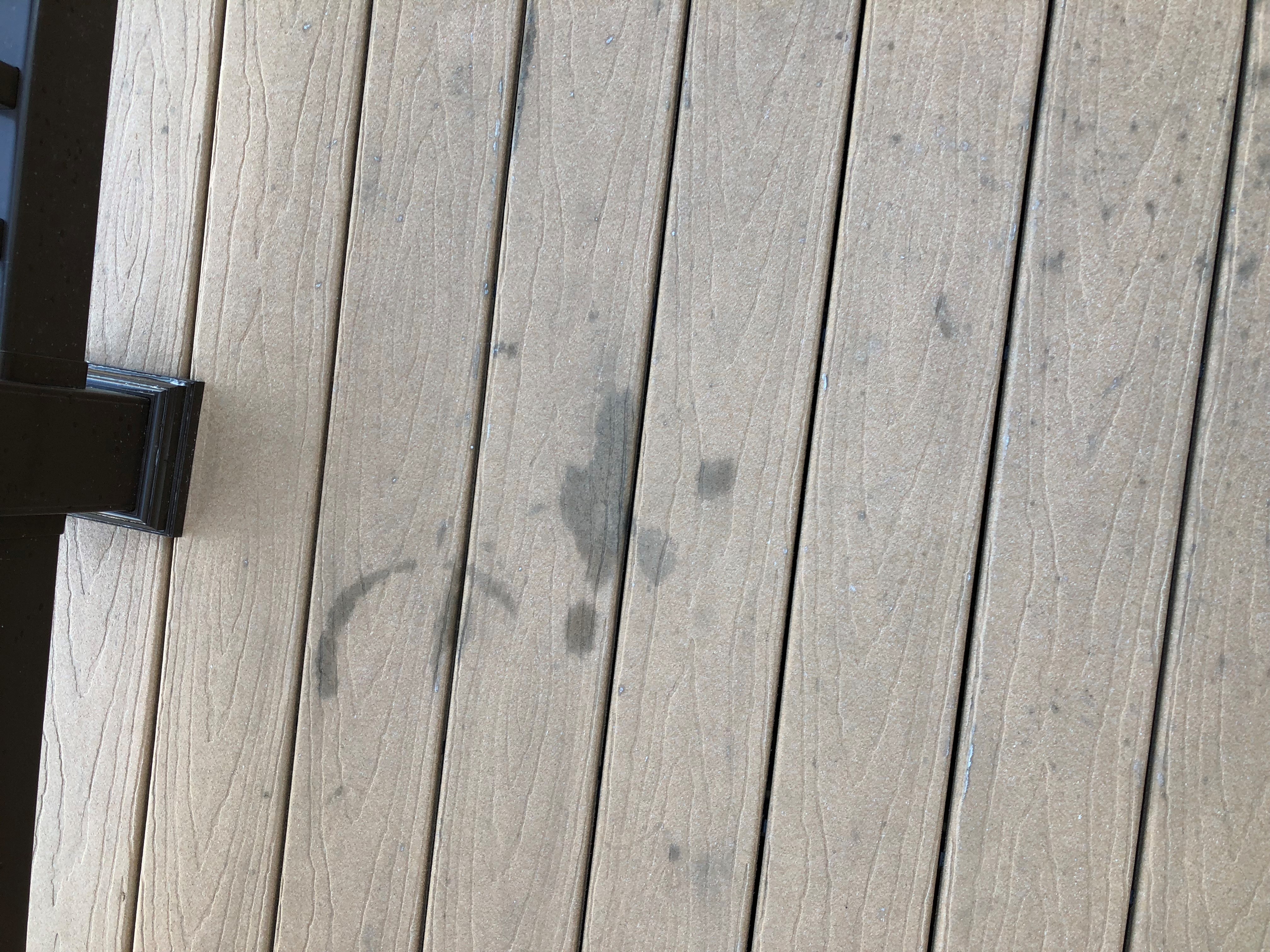 Robert m isenbarger - December 12, 2016
A year ago we built a beautiful new using Choice Deck Harvest Brown from Lowes. This deck is. Eautif and just what we wanted. However, shortly after installation we noticed a couple of issues with the material. We contacted Hoover Deck and they were absolutely wonderful in resolving our problem to our complete satisfaction. We are completely satisfied with our Deck, and particularly the people at Choice Deck who worked so hard to resolve this issue. We would highly recommend this product to anyone considering adding a deck.
Amanda Bell - September 27, 2016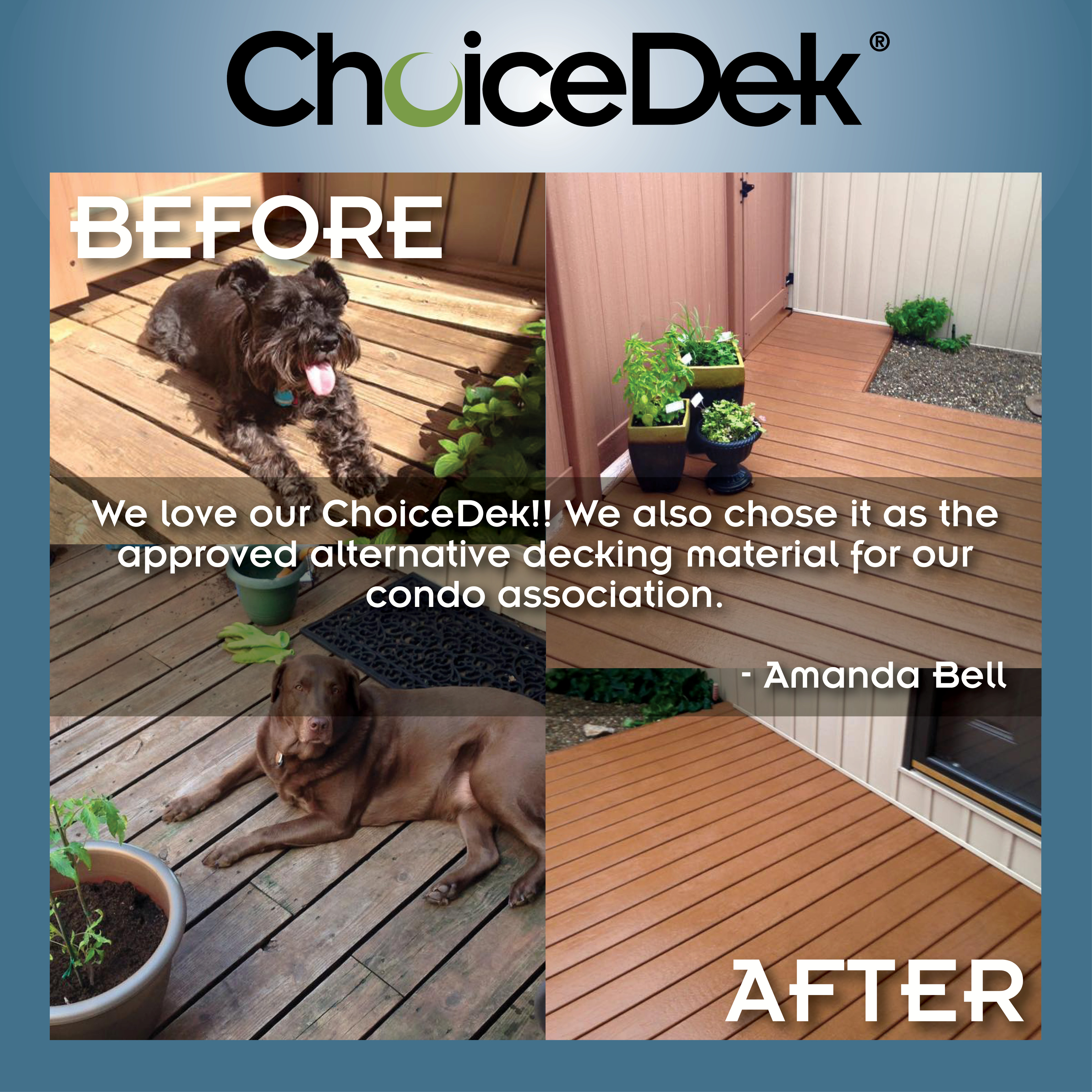 Barbara Campbell - September 22, 2016
I have replaced my deck twice before with pressure treated wood and it just doesn't look good or does it last. My new Choicedek is absolutely gorgous, clean and neat looking. No screws, perfect spacing and we are really enjoying our deck. I don't want to even put items out there to take away from the large span of deck to now look at. Thank you
Ed Mccullar - September 4, 2016
The deck looks great. Looking forward to seeing how it weathers under the large tree.
Terri Golightly - July 5, 2016
Originally thought of buying Trex at Lowes but the sales person in building materials took us to the area where products were stocked and showed us the differences. We liked that color was not just a shell over top of product as the Trex product was and seemed more substantial. Grey was a great neutral shade and texture was very nice. The price point was great too, less expensive than the competitor. We are very pleased with our new deck and are looking forward to no staining as in our climate 2-3 years max on regular decking before a powerwashing and restaining was needed. Excellent product already recommended to several others and plan to use for more projects at our house!! Thanks for this great looking product! And great warranty!
Mike Baldino - June 23, 2016
I like the fact that it would not require ongoing maintenance and has 25 year warranty
Trudy Slusser - June 18, 2016
Deck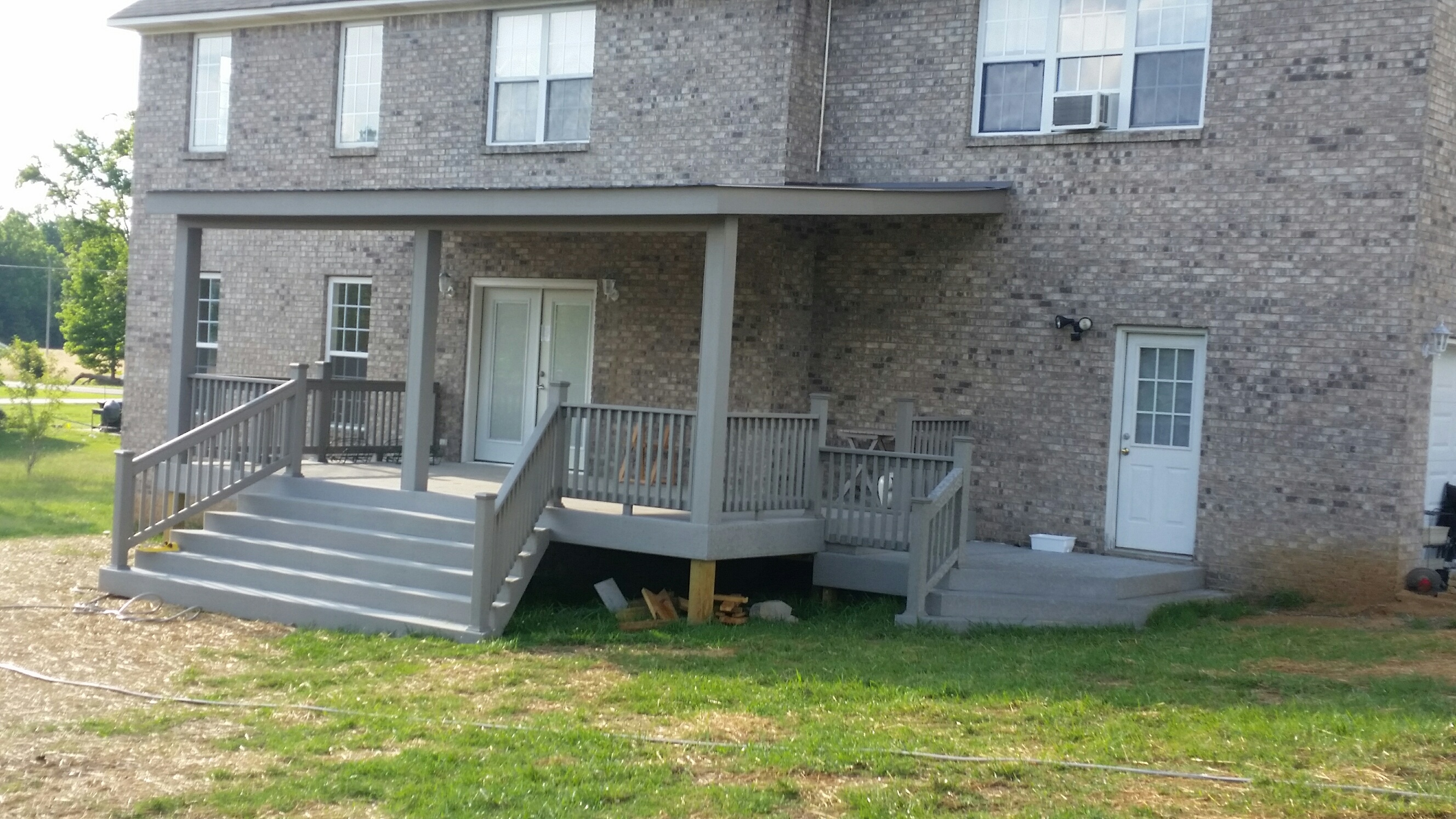 Shelby - May 18, 2016
We really loved the look initially and the product was very easy to work with but over the last few weeks we have became really disheartened by how dirt does not wash off the deck even with a bristle brush and soap. Our understanding was this material was easy to clean. We wish we would have picked a darker color than the beach house grey so it wouldn't look terrible all the time.
Lynne - May 17, 2016
Can I send you an image of my area and have you show me how the product would look?
Eugene Shirley - April 23, 2016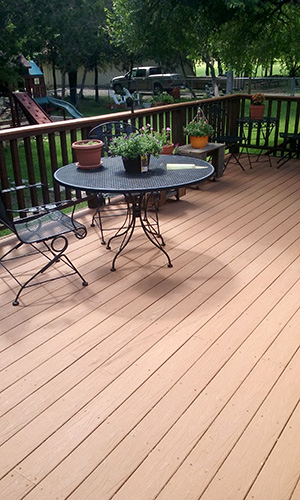 Lang Ellis - April 21, 2016
The deck looks great--I am a little worried that it might not hold its good looks as it ages, due to reports from other consumers and the class-action suit from years back. But the literature said that it could be installed anywhere, which sounds very confident.
Larry Edmonds - February 28, 2016
I purchased your gray choicedek deck boards about 4 years ago for a pool deck. I was looking for the same product to replace some steps but Lowes only had your deck boards that are only 1" thick. The ones I have are about 1.25" thick. Do you still manufacture these thicker boards?
Jim Reid - January 21, 2016
I am a private contractor in the Asheville area who has been building decks for Lowe's for many years. This is my latest project.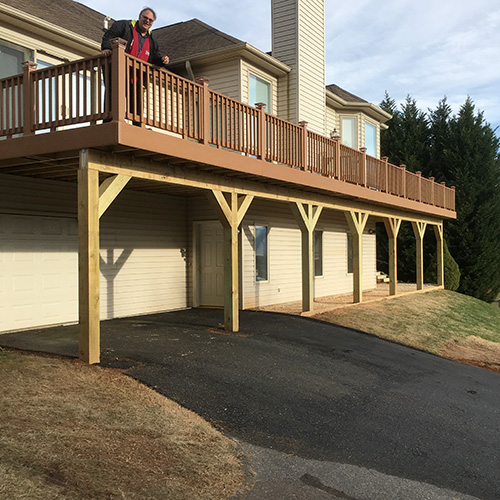 Sue Powell - January 5, 2016
We love to entertain on the deck now that we have more space. Coupled with the other backyard makeover projects, it's a very desirable place to eat meals or just hang out. We liked the appearance of the deck so much, that my husband decided to buy a few more pieces of the Beach House Gray decking and use it to replace our front steps.
Hans van Glabbeek - December 22, 2015
Exciting deck was rebuilt and finished with ChoiceDek material. The whole deck and steps are the same color except last two steps. Why is there a difference in shade of color?
dawn mccartin - November 1, 2015
Love the choice deck rails on my balcony. Great look and great product!!!! Installed October 2015.